I just finished my Resident Evil themed commission for Brad Thompson.
It started with 2 memorycards but went further with a matching controller.
The idea was to compliment the Limited Edition Chainsaw Controller that was released for Resident Evil 4. Albeit a clumsy and somewhat weird controller the colour scheme was unique and fun.
My trusty Airbrush in one hand and the deepest, darkest thoughts from my mind in the other have brought this project to light.
Once finished with the controller I knew I had to swap out the buttons to bring it all together for a more pleasing and aesthetically more coherent look. Its funny as I'm actually not a fan of monotone coloured or resin cast buttons but with this controller I'm glad I put my personal preferences aside and went for it.
I tried both RED and BLACK and a combination of the two but in the end I went with full black as it doesn't draw the attention away from the custom paintjob as much as the RED does.
For the cord I went with a RED and BLACK paracord sleeving. The choice was made fast as the 2 colours are very dominant in the overall look.
As a small added touch I added the Gamecube Logo back on the top half of the shell. It got covered with the paint and since its and official controller, I thought I'd might as well make it known. Just isn't official if the logo ain't there, right?
Hope you guys enjoy the pictures.
If you have any questions, please let me know.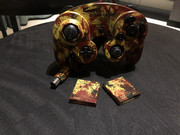 photos